Over the years of screening dividend stocks to purchase, and I do mean years, I have used a lot of methods and tools. Originally, I started by hand pulling up each and every company on Gurufocus and then moving to various screening tools and that I would then cross reference the dividend champion and contender list. However, after a couple of changes to the screeners I was using I was going to relegate myself to going back to the dreadful Gurufocus way of doing things, until I figured out a new fantastic tool – the excel add-on from FinBox.
My metrics aren't changing yet (they will be Q12020), but with the new tool the screening process took almost no time at all. Within 10 minutes (including installation) I was able to go from about 175 companies that increased their dividend for 20 or more years to 4!
Screening for Undervalued Dividend Growth Companies
Dividend Growth History
The very first hurdle that a company has to pass is whether it has increased its dividend for 20 or more years. I am looking to build a sustainable income stream, and it is my hope (and all it is a hope) that if they have paid dividends for 2+ decades it is part of their DNA and so they'll continue to do so. I use the Dividend Champion List (25+ years of dividend growth) and part of the Dividend Contender List (10 to 24 years of dividend growth). The lists are maintained by The DRiP Resource Center.
Price to Earnings
The first metric I screen for is Price to Earnings. Price to earnings is defined as,
the ratio for valuing a company that measures its current share price relative to its per-share earnings.
P/E is probably the most popular way to value stocks. If you are reading this post you should probably already know that price in it of itself is not a measure of a company's value. In the past I have used different ratios (under 20, under industry average, under both 20 and industry average, under 20 CAPE P/E, etc.) for calendar year 2019 I am going to focus on those stocks with a P/E under 15.
Dividend Yield and Payout Ratio
I am not dividend hunting, but I do want to get paid to have money invested with the company, so I am going to use a dividend yield of at least 2% for calendar year 2019. Much more important than the yield is the Dividend Payout Ratio which is simply the amount of earnings per share that is being used to support the dividend. While sources will have different views on the topic I like Dividends.com guidelines,
A range of 35% to 55% is considered healthy and appropriate from a dividend investor's point of view. A company that is likely to distribute roughly half of its earnings as dividends means that the company is well established and a leader in its industry. It's also reinvesting half of its earnings for growth, which is welcome.
Over the past few months I found that I was eliminating some otherwise investable stocks just because they were under 35% and that didn't/doesn't make a whole lot of sense to me. So anything over 55% is eliminated.
Free Cash Flow Yield
New for 2019 is Free Cash Flow Yield.
Free cash flow measures the cash available to shareholders after a company has paid all of its bills in full. Buffett relies heavily on a similar metric that he dubs "owner earnings."

One way to gauge a firm's cash flow production is to examine its free cash flow yield. This is calculated by dividing free cash flow by market capitalization, or the inverse of the Price/FCF ratio. A firm with a free cash flow yield of 10%, for example, generates 10% of its total market value in cash each year. That cash, in turn, can be used to pay dividends or fund share buybacks — items that enhance shareholder returns.
Having seen a bunch of a different articles on the topic I liked this one best explaining where my gauge should be:
Having used the Free Cash Flow Yield a zillion times over the years, I have come up with these conservative parameters for my own investing.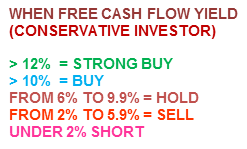 For the more Aggressive, as well as the "Buy and Hold" investor, I would adjust everything down a notch, and for example, would make the hold from 2% to 5.9% and the buy from 6% to 9.9% and sell anything under 2%. As for shorting a stock that would be any result under zero, including any negative result. Here is a listing of those parameters for easy reference.
Since this is a pure buy and hold account I set my screener at 6%+ for Free Cash Flow Yield.
My December 2019 Watch List and Purchase
After all that I was left with just 4 companies!
| | | | | | |
| --- | --- | --- | --- | --- | --- |
| | | PE | Dividend Yield | Payout Ratio | Free Cash Flow Yield |
| Nucor Corp. | NUE | 9.11 | 2.78% | 27.05% | 6.23% |
| C.H. Robinson Worldwide | CHRW | 15.46 | 2.63% | 41.79% | 7.46% |
| Old Republic International | ORI | 9.96 | 3.56% | 34.67% | 10.95% |
| AFLAC Inc. | AFL | 12.76 | 2.04% | 25.49% | 13.03% |
I have positions in NUE, ORI and AFL already, but CHRW is a new one to me. First, let's look what they do since I have never heard of them,
C.H. Robinson is an American Fortune 500 provider of multimodal transportation services and third-party logistics (3PL). The company offers freight transportation, transportation management, brokerage and warehousing. It offers truckload, less than truckload, air freight, intermodal, and ocean transportation

From: Wikipedia
Okay, so we have a logistics and trucking company, but why I haven't I seen them before? Whenever this happens I have found that something has happened with the chart/pricing of the company. Often there is some type of correction or news, and then the company drops in price allowing it to fall in line with my pretty strict metrics. That is exactly what happened here:
Alright, so we have a trucking company that has a 20% drop last month, which leads us to the next inevitable question of – why? As expected they missed earnings which leads to after the fact bear articles coming out (i.e. the quote below was written 10 days or so after that huge drop in pricing…would have been nice if the author could have written it before):
Unfavorable pricing across most service lines due to excess capacity and lackluster demand is hurting the company's growth. Evidently, revenues declined 7.8% in the first nine months of 2019 due to volume softness. The sluggish freight environment due to the trade-related uncertainty is a huge downside for C.H. Robinson and is affecting its volumes.

In the global forwarding market, the company is witnessing air and ocean volume declines due to soft demand as a result of slowdown in global trade. Amid the weak freight demand, excess truck capacity is weighing on the company's truckload volumes. With truck pricing expected to be nearly flat in fourth-quarter 2019 and first-quarter 2020, the company anticipates net revenue per shipment to decline year over year through the first half of 2020.

Despite struggling due to the downbeat freight scenario, the company is focused on making investments in technology. Although aimed at long-term growth prospects, the large capital expenses might weigh on C.H. Robinson's bottom line. This is especially concerning for the company as it is already battling weak earnings due to soft volumes. For 2019, the company anticipates capital expenditures between $65 and $75 million, with the majority to be spent on technology. Its decision to invest $1 billion in technology over the next five years will increase capex further.

Moreover, the frequent management changes at C.H. Robinson do not bode well as far as investors' confidence in the stock is concerned. In February 2019, C.H. Robinson promoted its current chief operating officer, Robert Biesterfeld, to the position of chief executive officer. Also, Andrew Clarke quit as chief financial officer earlier this year. Mike Zechmeister has replaced him as the new chief financial officer.

Source: Yahoo Finance – Bear of the Day: C.H. Robinson Worldwide, Inc. (CHRW)
I haven't given much thought to this particular subset of the US Economy, but I don't possibly see how freight goes down over the long term. Even if we are to see autonomous trucks in the near future (which I really don't see happening anytime soon (1-5 years), this is the company who is going to own and use them thus seeing the bottom line benefit.
My purchase for this month is going to be 2 lots ($500 = 1 lot at the current time) with this